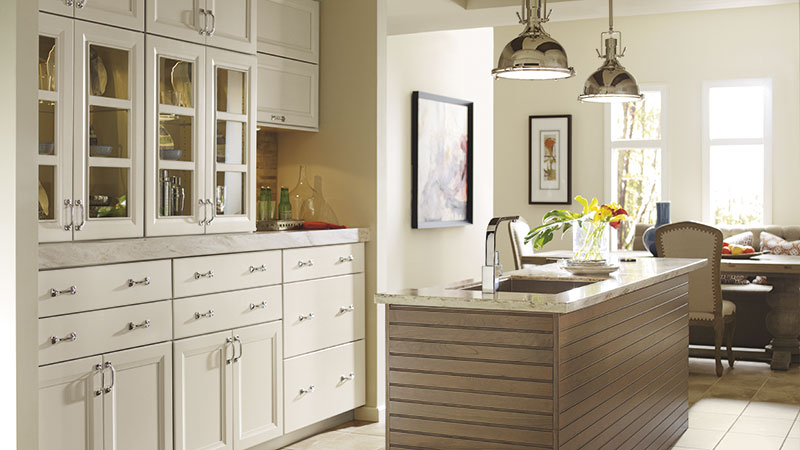 Basic Cabinet Terminology
Learn to Speak Like a Cabinet Pro
Now that you are thinking about a project, you'll appreciate knowing the cabinet terminology that Designers and Contractors are talking about. While it can sound like a whole new language, we've added pictures and points to make it easy to understand.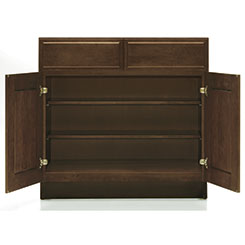 Box Construction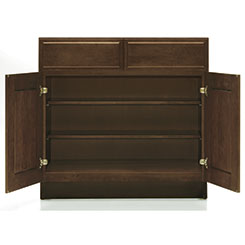 Face Frame – The structural portion of the cabinet to which doors are attached, consisting of both rails and stiles.
End Panel – The side of the cabinet that is grooved into the face frame and extends back to the wall.
Bottom – The floor of the cabinet. On a wall and tall cabinet, the same component is used as the top.
Back – The rear vertical surface used to mount the cabinet to the wall.
Adjustable Shelves – Horizontally placed storage surfaces that are adjusted by moving clips used to hold the shelf in place.
Toekick – The recessed toe space at the bottom of a base cabinet.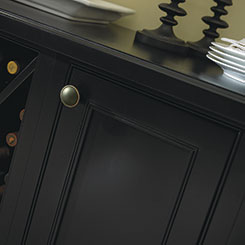 Cabinet Doors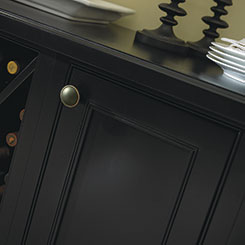 Center Panel – The raised or flat panel in the middle of a door enclosed by stiles and rails.
Center Stile – Sometimes called a mullion, this is the raised rail in the middle of a door that is enclosed by stiles and rails.
Edge Profile – Shape put on the outside edge of a door or drawer front.
Rail – A horizontal framing member of a cabinet face frame or door.
Reveal – On a framed cabinet, the distance between the outside edge of the face frame and the outside edge of the door.
Stile – The vertical-framing members of a cabinet face frame or cabinet door.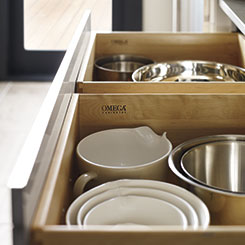 Cabinet Drawers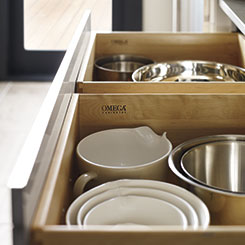 Dovetail Joint – An interlocking corner joint where pins on one piece fit into sockets on a second piece and dovetail together.
Drawer Glide – The system used to support the drawer in a cabinet and provide opening/closing operation.